OSX: Office 2016 keep asking for Office 365 login when opening Outlook
Open Spotlight by selecting the magnifying glass at the top right of your desktop.
Search for and open Keychain.
Type in Office and then delete the data license file:
Microsoft office Identities Cache 2
Microsoft Office Identities Settings 2
Go to Library folder and open Group Containers, delete the following folders.
UBF8T346G9.ms
UBF8T346G9.Office
UBF8T346G9.OfficeOsfWebHost
Reactivate your Office.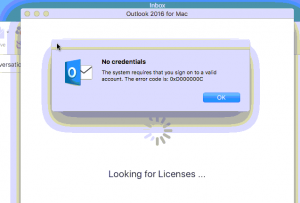 e4c26ee
Source: https://answers.microsoft.com/en-us/msoffice/forum/msoffice_install-mso_mac/cannot-activate-office-2016-for-mac-error/b989d513-ca39-493f-9557-5534b